We can provide two types of titanium tube---seamless tube and welded tube:

1.Titanium seamless tube is processed by the breakdown of titanium ingot, extruding to titanium tube billet. Then produce titanium tubes to appropriate size with series of processes such as multiple rolling, annealing, pickling, and grinding technology.

2.Titanium welded tube is by selecting a suitable thickness of the high quality cold rolled titanium plate, after the process of flattening, cutting and washing, then rolled up titanium plate into tubular, welding by the whole automatic welding equipment. Our advanced welding equipment guaranteed the quality of welding. Ultimately help to produce the excellent quality titanium tube.
Titanium Tubes, Pipes and fittings are available in both Seamless as well as Welded types, manufactured to the ASTM/ASME specifications in a wide variety of sizes. With strict quality control , we will make the 100% flaw detection or X-Ray test , and provide Bao Ti Center Physical and Chemical Test Report.We supply titanium tubes to leading Oil & Gas industry fabricators to build heat exchangers, air-coolers and other process equipment.
Titanium seamless tube
Grade: Gr1, Gr2, Gr7, Gr9, Gr11, Gr12, Gr16 etc
Outer diameter: 3~110mm
Wall thickness: 0.1~5.5mm
Length: ≤19000mm
Titanium weld tube
Grade: Gr1, Gr2, Gr7, Gr9, Gr11, Gr12, Gr16 etc
Outer diameter: 10~1000mm
Wall thickness: 0.5~5.5mm
Length: ≤19000mm
Gr5, Gr23 titanium alloy seamless tube
Outer diameter: 20~110mm
Wall thickness: 1~50mm
Length: ≤3000mm
Manufacturing process: Drilling, Hot Rolling
Titanium Seamless Tube Titanium Welded Tube
Product Description
Products Name: Titanium Seamless and Welded Pipe
Material: GR1, GR2, GR3, GR4 (CP Ti),Gr5, Gr7,Gr9,Gr12
Size: OD (3~110mm) * WT(0.2~5.5 mm) * L
Standard: ASTM B337, ASTM B338, ASTM B861, ASTM B862,etc
State: M/Y/R
Processing: Hot rolling, Cold rolling, Cold drawing
Surface: Acid -washing or polished
Test: Tensile Test, Visual, Ultrasonic, Flattening, Hydraulic, Bending Test, X-Ray Test
Application: Heat Exchangers,Condenser,transport pipe Oil& Gas Industry,Sports Goods.

Chemical Composition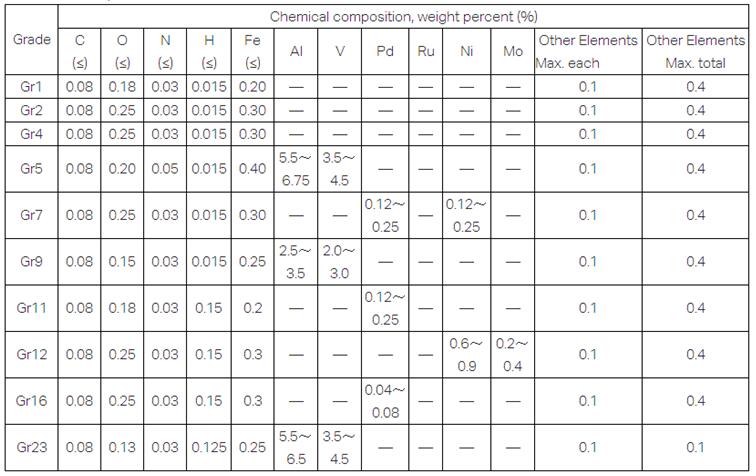 Physical Properties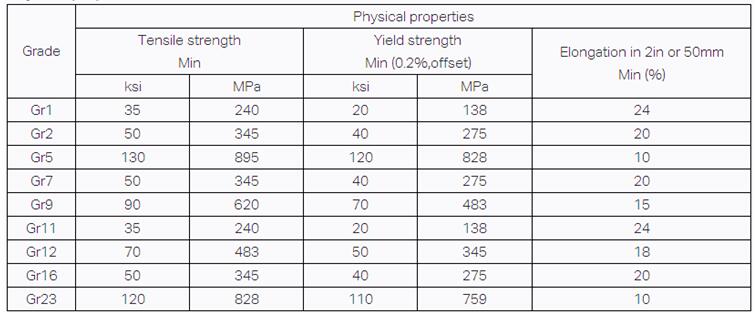 Application
1.Shell and tube heat exchanger, condenser, evaporator, pipeline, etc
2.Seawater desalination equipment
3.Bike rack

4.Marine pressure tube
PRODUCTOS POR GRUPO : Otros productos de titanio > Tubo de Titanio